Posted by
jadedgeneration on 2013.05.15 at 00:48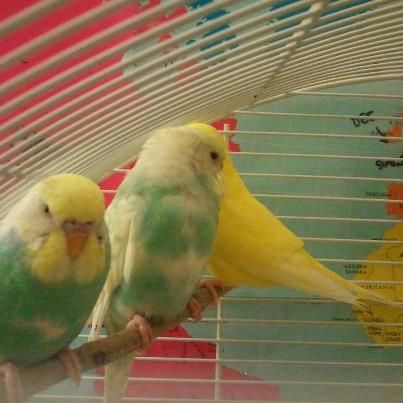 Drake is the nearer bird, Cloud has a big white stripe across his belly that makes me picture GAA jerseys. I sometimes call him the smalest GAA player in the world.
Cloud is brave and clever, Drake is shy and likes to play uninterrupted on his swing or maybe clatter the mirror off the cage and make loads of noise. Cloud is Yellow's boyfriend. My Marky died last November, but Yellow never liked him, she pretty much ignored him. Now she has a toyboy (Cloud is only 9 months old!) and even Drakey she talks to sometimes.
They are my little stars but no bird will ever be Marky. He was just shy of his 11th birthday when he died. I miss him! I love my little ones though. Yellow is precious to me, even though she acts like she hates me, she really doesn't. And, weird as this might be, she's a Doors fan. I just knew my Yellow hen had to get a one up on me being a Joy Division fan. Her music is darker than mine!
Marky's favourite song was Kids by MGMT. So far Drake took a massive interest in Zombie by the Cranberries (and that led to an amusing FB thread) but still, other than the Stereophonics, nothing favourite for the babies. Love them as much as I do, I will not listen to the Stereophonics for them.